Recipe Board
Every family has that special recipe. One that's handed down from generation to generation. Now you can hold onto that recipe and the memories, forever, through a cutting board engraved with the original handwriting. You provide us with the recipe image. We do the rest.
From drinkware to seasonal gifts, we can engrave thousands of other items with your logo, monogram or personal message. Since 1964, Dean's has been engraving items for the greater Kansas City area. You can rest assured that your gift will be completed locally with the highest attention to detail.
Email, call or visit either of our Kansas City area locations or order online and we can help you turn your gift into something memorable.
Lee's Summit – 816.524.2782
Belton – 816.331.0996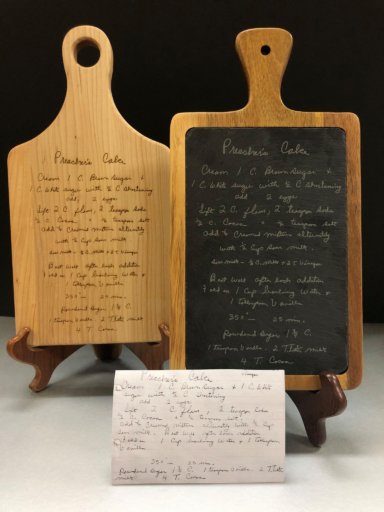 Cutting Board Options
Below are a few options we have for cutting boards, but we have many more available.